#1 Call My Agent !
One of my favourite series: funny, original, very well played and directed. You can discover the other side of the set of French cinema and series, a world still little known. With prestigious guest stars, this series is full of good surprises. Perfect for working on your French. Don't hesitate to use the subtitles 😉 To be consumed without moderation !
Synopsis : Every day, 4 star agents in the art agency A.S.K., juggle from one delicate situation to another defending their vision of the profession, where private and professional life often intermingle.
Number of seasons : 3, the 4th will be released in spring 2020; Available on Netflix
My rating : ♥️♥️♥️♥️♥️
#2 Kaamelott
One of the most cult French series! If you want a mini-series full of French humor, Kaamelott is for you !
Synopsis : The banal and burlesque daily life of King Arthur and the Knights of the Round Table: quest for the Grail, family meals and military strategy.
Number of season : 6 !!! And a movie in preparation for 2020; Available on Youtube (little tip: you can activate subtitles on Youtube, they are automatically generated so they are sometimes a bit off the mark, but it can help you understand the series if you start in French)
My rating : ♥️♥️♥️♥️🖤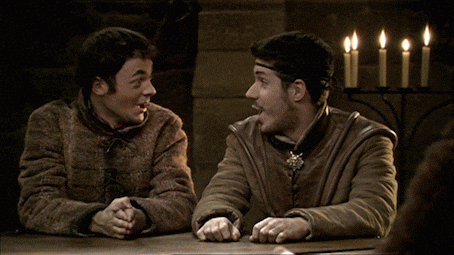 #3 La Mante
A French-style thriller with a very good cast! The story is captivating and addictive. I highly recommend this series. Don't hesitate to give your opinion too.
Synopsis : Jeanne Deber, known as "The Mantis", the famous serial killer who terrorized France more than 20 years ago, is forced by the police to come out of solitary confinement to track down her copycat. She agrees to collaborate on one condition: to have only one interlocutor, Damien Carrot, her son, who became a cop to redeem his mother's crimes, and who refuses any contact with her since her arrest.
Number of seasons : 1; Available on Netflix
My rating : ♥️♥️♥️🖤🖤
#4 Plus belle la vie
The show of my childhood! Yes, this series dates a little bit but it still exists! It's a series with short episodes, which talks about everyday life, very often related to French news but with a lot of twists and turns (sometimes very strongly pulled by the hair).
Synopsis : Plus belle la vie shows the daily life of the inhabitants of a fictitious district of Marseille, the Mistral. The series is organized around two main types of intrigue :
- the personal life of the inhabitants of the Mistral, with their daily joys and worries, the evolution of their loves and friendships;
- police intrigues (sometimes tinged with fantasy) in which the inhabitants of the Mistral are involved.
Number of seasons : 15; Available on Amazon, some episodes on Dailymotion
My rating : ♥️♥️♥️🖤🖤

#5 The Hook Up Plan
Perfect series if you want to discover the life of 3 Parisian women quite offbeat! Dynamic, funny, fresh! Impossible not to watch it in one go.
Synopsis : In Paris, two friends are saddened to see their girlfriend Elsa, eternally single, desperate for her failed love affairs. In order to restore her confidence, they recklessly decide to hire an escort boy who is supposed to give her back her taste for encounters.
Number of seasons : 2; Available on Netflix
My rating : ♥️♥️♥️♥️🖤

#6 La forêt
Another great French thriller! With a police investigation full of twists and turns that will keep you on the edge of your seat until the end of the season.
Synopsis : In the night, Eve Mendel receives a disturbing call from Jennifer Lenoir, a high school student. She immediately goes to the gendarmerie to report it, convinced that something has happened to her. However, Lieutenant Musso warns the captain: this Eve Mendel is a bit peculiar, it would be better not to take her too seriously. Decker disagrees. Jennifer's parents have been summoned. They haven't seen their daughter in several hours.
Number of seasons : 1; Available on Netflix
My rating : ♥️♥️♥️🖤🖤
#7 Dolmen
The saga of summer 2005 ! Yes, it's a little dated! But I still have good memories of it. A hectic series full of mysteries under the scenery of a beautiful Breton island.
Synopsis : Marie, a young policewoman, returns to her native island to marry her childhood sweetheart. But on the eve of her wedding day, strange events begin to happen. Bloody seagull corpses are found in various places, Marie is assaulted during her nights of strange nightmares, her brother Gildas is found dead... and the dolmens start bleeding. With the help of an inspector from the mainland, Lucas Fersen, Marie decides to clear up all these mysterious phenomena.
Number of season : 1 ; Available on Amazon
My rating : ♥️♥️♥️🖤🖤
#8 Marseille
Despite the fact that there are very good actors, it's not the kind of show I like at all. But I propose it to you all the same, it's very possible that you like it !
Synopsis : As Marseille's municipal elections approach, Robert Taro, mayor of the city for twenty years, is preparing his latest move: to vote for the construction of a casino in the historic centre of the Marina.
Number of seasons : 2; Available on Netflix
My rating : ♥️♥️🖤🖤🖤
#9 Les bracelets rouges
To tell you the truth, series and movies set in hospitals don't make me feel comfortable at all (#hypocondriac). It is however a very good series with very endearing actors. I recommend it to you.
Synopsis : Despite the illnesses they suffer from and have to fight against on a daily basis, Thomas, Clément, Roxane, Mehdi, Sarah and Côme, who form the Red Bracelets gang, are determined to live their teenage life to the fullest, even if it takes place in hospital. Surrounded by sometimes helpless parents, and supervised by a nursing staff that tries to keep a cool head, they will experience, between first love affairs, betrayals, relapses and recoveries, trials that will change their lives.
Number of season : 2 (the 3rd is in preparation) ; Available on Youtube
My rating : ♥️♥️♥️🖤🖤

#10 Scènes de ménage
I love Scène de ménage ! A humorous mini-series that depicts in a caricature way French couples and their daily life according to different generations.
Synopsis : Discover the spats of four couples from different generations: Marion and Cedric in their thirties, Liliane and José in their fifties, Huguette and Raymond in their seventies. Emma and Fabien join the adventure along the way.
Number of season : 10; Available on Youtube
My rating : ♥️♥️♥️♥️🖤

It was the first volume of this top 10 best French series to learn French. The second volume is coming soon 😉 I hope you liked it.
Feel free to comment on a series !
See you soon for new adventures, in French of course! 🇫🇷